2019 Calls
Jan
38
Feb
16
Mar
Apr
May
Jun
Jul
Aug
Sep
Oct
Nov
Dec
Total
54
2019 Incidents
Working Fires
Extrications
Rescue TF Calls
1
0
0
2018 Calls
Jan
50
Feb
46
Mar
47
Apr
41
May
46
Jun
41
Jul
41
Aug
48
Sep
56
Oct
50
Nov
55
Dec
38
Total
559
2018 Incidents
Working Fires
Extrications
Rescue TF Calls
9
9
3
2017 Calls
Jan
45
Feb
45
Mar
34
Apr
29
May
37
Jun
36
Jul
25
Aug
65
Sep
47
Oct
47
Nov
53
Dec
47
Total
510
2017 Incidents
Working Fires
Extrications
Rescue TF Calls
15
7
1
2016 Calls
Jan
63
Feb
43
Mar
32
Apr
41
May
32
Jun
35
Jul
34
Aug
26
Sep
37
Oct
39
Nov
43
Dec
50
Total
475
2016 Incidents
Working Fires
Extrications
Rescue TF Calls
16
10
6
2015 Calls
Jan
42
Feb
47
Mar
34
Apr
38
May
36
Jun
51
Jul
42
Aug
34
Sep
36
Oct
47
Nov
41
Dec
35
Total
483
2015 Incidents
Working Fires
Extrications
Rescue TF Calls
23
7
2
Past Calls
2018
559
2017
510
2016
475
2015
483
2014
512
2013
420
2012
476
2011
522
2010
530
Total
4487
Web Counters
Website Visitors
Since
March 25, 2014

Visitors Today
Feb 16, 2019

Swiftwater Rescue Team Activated During Flash Flooding.
By Lt Bill Cummings
August 13, 2018

Chester County has once again been inundated with heavy rains today. Multiple water rescues have been ongoing throughout the County. Around 8:45 am, Squad and Boat 53-2 were dispatched to Goshen Road and Plumsock Road in Willistown Township to assist Delco Station 41 with a vehicle submerged in water. The vehicle was found unoccupied. They were then assigned to evacuate an elderly couple from a house that was taking on water. Pictured below is Boat 53-2's Crew evacuating the residents from a house in Willistown Township. This was just one of numerous water rescue calls in the Tredyffrin/Main Line area. Squad 53 and Boat 53-2 were later relocated to the Valley Forge Middle School in Station 2's (Berwyn) local to stand by and prepare to assist with rescues in the Tredyffrin/Wayne area. While this swiftwater team was deployed, additional swiftwater crews were standing by on station to provide services wherever they may be needed. After a very busy few hours, Squad 53 and Boat 53-2 safely returned to station. Crews decontaminated their equipment and prepared to respond at a moments notice!

"With Willing Hearts, We Hasten To Assist"!

Photo by Mike McCarthy

Units:
Squad 53, Boat 53-2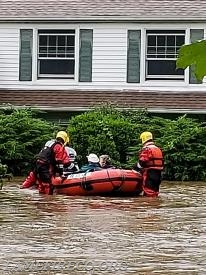 Boat 53-2 crew safely removes occupants from flooded dwelling in Willistown Township.